CAMP THUNDERBIRD BOYS' CAMP 75TH REUNION DETAILS

FRIDAY, AUGUST 12TH 2:00-5:15:
ALUMNI WILL GATHER AT BEMIDJI'S CARNEGIE LIBRARY WHILE THUNDERBIRD WRAPS UP THE END OF THE SEASON.
CAMP WILL OPEN FOR THE REUNION AT 5:30PM. PLEASE ARRIVE AT THIS TIME OR LATER.
WE WILL PROVIDE DAVE'S PIZZA AND A SALAD FOR DINNER FROM 6:00-8:30PM.
THIS EVENING IS AN INFORMAL GATHERING AND WILL INCLUDE A CAMPFIRE ON THE BEACH. THE LODGE WILL BE OPEN FOR SOCIALIZING.
SATURDAY, AUGUST 13TH:
7:45 AM: RISE AND SHINE! BREAKFAST WILL BE AT 8:30AM AND WE PROMISE TO HAVE BIG POTS OF GOOD COFFEE BREWING AT AROUND 8:00 AM IN THE LODGE.
9:15 AM: DO YOU NEED TO GO MAKE YOUR BED OR CLEAN YOUR CABIN, NO ONE IS CHECKING, BUT….
10:00-12:00 PM: WHERE WILL YOU SPEND YOUR FIRST AND SECOND ACTIVITY HOURS? VIRTUALLY EVERY ACTIVITY WILL BE OPEN. RELIVE YOUR SHARPSHOOTER DAYS AT RIFLERY OR HOP INTO A CANOE AND SEE IF YOUR "J" AND "C" STROKES COME BACK TO YOU. THE WATERFRONT WILL BE IN FULL SWING OR YOU CAN LOUNGE IN CHAIRS AND HAMMOCKS AROUND CAMP.
12:00-12:20: DID YOU SPEND YOUR TIME BEFORE A MEAL PLAYING BOX HOCKEY, PING PONG OR TETHERBALL? SHOULD WE HAVE A ROUND ROBIN EVENT? YOU TELL US?
12:30-1:30: WHAT WAS YOUR FAVORITE CAMP LUNCH? GRILLED CHEESE AND TOMATO SOUP? DON'T WORRY, WE WILL HAVE A SALAD AND VEGGIES ON THE TABLE TOO.
1:30-3:00: "REST HOUR" IS NOW CALLED "CABIN TIME" BUT WE ALL MAY NEED TO TAKE A REST! THE BEACH AREA WILL BE OPEN FOR RELAXING, SWIMMING AND RAFTS ONLY. THE CAMP STORE WILL ALSO BE OPEN SO YOU CAN STOCK UP ON TBIRD GEAR.
3:00-5:00: MORE ACTIVITY TIME! WILL YOU TRY THE CLIMBING WALL, THROW AROUND A BASEBALL OR HEAD OFF TO CAMP CRAFT (NOW OLS) TO SHOW OFF YOUR OLD CAMPING SKILLS.
6:00-7:00: FAVORITE DINNER? WE WILL SEE, BUT WE EXPECT THERE TO BE SOME OLD SCHOOL SINGING OF CAMP SONGS.
8:00: COUNCIL FIRE FOR ALL. AT THE 70TH, IT WAS INCREDIBLE TO HEAR ALUMNI SPEAK OF THEIR FOND MEMORIES AND HOW THUNDERBIRD SHAPED THEM INTO THE PERSON THEY ARE TODAY. WE LOOK FORWARD TO THIS TIME TOGETHER.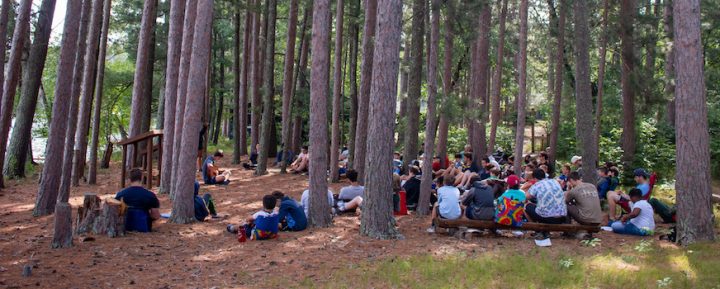 SUNDAY, AUGUST 14TH:
(IT'S YOUR FINAL DAY, RELIVE YOUR MEMORIES AND MAKE NEW ONES)
8:00-9:00:  WHO REMEMBERS LATE SLEEP BREAKFAST AND PEEWEE, HONEY, PIRATE AND MEATLOAFS' SPREADS. EXPECT DONUTS, PASTRIES, FRESH FRUIT, HOT CEREAL AND MORE. COFFEE WILL STILL BE FLOWING!
9:00:  SERVICES- A CHANCE TO HAVE A QUIET MOMENT IN ONE OF OUR FAVORITE SPOTS.
10:00-12:00 PM:  ACTIVITIES
12:30-1:30:  LUNCH- WILL IT BE FRIED CHICKEN, MASHED POTATOES, ROLLS, GREEN BEANS AND ICE CREAM CONES FOR DESSERT? IT IS AN OLDIE AND A GOODIE!
1:30-3:00:  WATERFRONT OPEN FOR SWIMMING AND LOUNGING.
3:00-5:00: IT IS YOUR LAST ACTIVITY TIME. WILL YOU FILL IT WITH SOMETHING YOU HAVEN'T DONE?
6:00: FINAL BANQUET: TURKEY, STUFFING, ROLLS, BROCCOLI, POTATOES AND OUR FAMOUS GRASSHOPPER PIE.
MONDAY, AUGUST 15TH:
MUCH LIKE THE LAST MORNING OF CAMP, WE WILL ALL SET OFF AT DIFFERENT TIMES. IT WILL BE A WEEKEND TO BE CHERISHED. ONE MORE CHANCE TO BECOME A CAMPER OR APPRECIATE THOSE CAREFREE MOMENTS.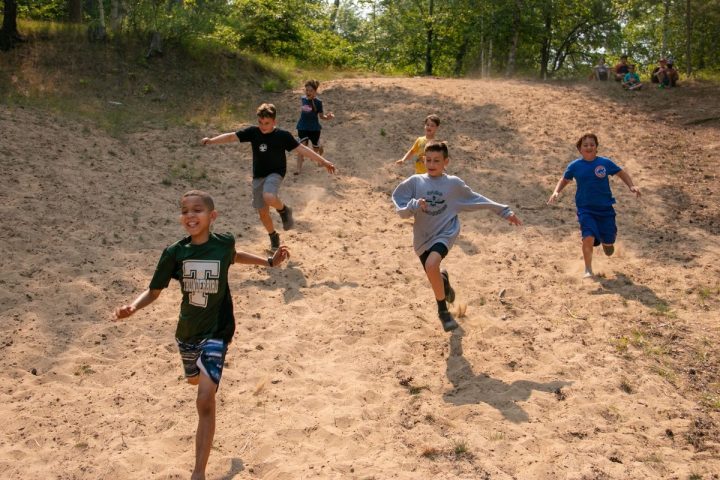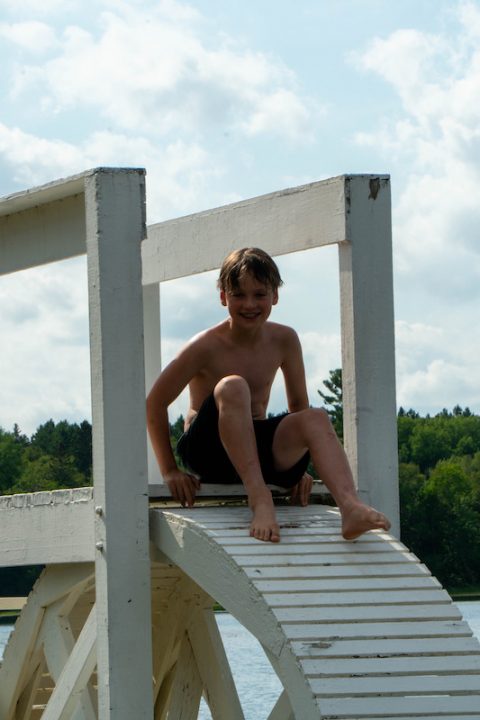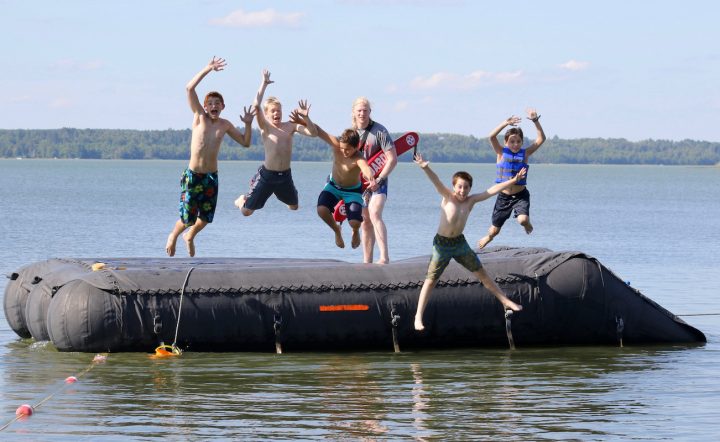 CABIN REQUESTS
LATER IN THE SUMMER, A FORM WILL BE SENT ASKING FOR YOUR FRIEND AND CABIN LOCATION REQUEST. WE WILL HONOR LOCATION REQUESTS BASED ON NEED FIRST AND THEN PREFERENCE WILL BE IN ORDER OF WHEN INDIVIDUALS SIGNED UP FOR THE REUNION. HINT-GET SIGNED UP NOW.
DETAILS FOR TRAVEL AND TIME AT CAMP
WE WILL HAVE A SHUTTLE FROM THE BEMIDJI AIRPORT TO CARNEGIE LIBRARY ON FRIDAY AND SHUTTLES TO CAMP ON SATURDAY. THOSE FLYING INTO MINNEAPOLIS SHOULD ANTICIPATE SOME TRAFFIC AS YOU HEAD NORTH.

PLEASE PLAN TO BRING YOUR OWN SLEEPING BAG AND SOMETHING TO REST YOUR HEAD ON AT NIGHT.

PLAN FOR WARM AND COLD DAYS AND IF YOU DON'T PACK YOUR RAINCOAT, IT WILL RAIN, SO PLEASE DON'T FORGET.

IF YOU NEED SPECIAL ACCOMMODATIONS TO GET AROUND CAMP OR FOR YOUR SLEEPING ARRANGEMENTS, PLEASE CONTACT US AND WE WILL SEE WHAT WE CAN OFFER YOU.
COVID-19 PROTOCOLS
WE APPRECIATE YOU HELPING TO KEEP OUR COMMUNITY COVID FREE BY AVOIDING RESTAURANTS AND UMASKED GATHERINGS IN THE FOUR TO FIVE DAYS BEFORE YOU JOIN US.

PLEASE PLAN 

TO RAPID TEST THE DAY OF OR DAY BEFORE YOU DEPART FOR CAMP.

BEFORE ENTERING THE CAMP COMMUNITY, WE WILL HAVE EVERYONE RAPID TESTS ONE MORE TIME.

PLEASE PLAN TO WEAR A MASK IN THE AIRPORT AND ON THE PLANE.
STAYING OFF-SITE/FAMILY CAMP AND BOYS CAMP BY DAY?
WE RECOMMEND THE DOUBLE-TREE, HAMPTON INN AND COUNTRY INN AND SUITES FOR HOTELS.

PLEASE PLAN YOUR OWN TRANSPORTATION IF YOU ARE NOT ON SITE AT BOYS CAMP.

REMEMBER THAT THE REUNION IS FOR BOYS CAMP CAMPER/STAFF ALUMNI ONLY.

FAMILIES ARE WELCOME TO STAY FOR FAMILY CAMP AT GIRLS CAMP.